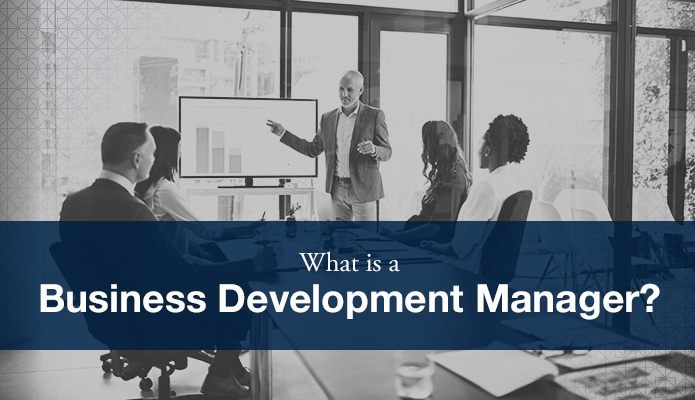 Business development can mean a lot of things to different people. At its core, business development is about finding ways to make a company more successful. Growth initiatives can help a business gain a larger slice of their market and survive well into the future.
In order for businesses to promote growth, it's important to have a business development manager on staff. Managers receive strategy from C-suite executives and then oversee business development at every stage of the sales cycle. These managers rely on business development associates to conduct market research and make phone calls. It starts with reaching out to other businesses or customers, converting them into potential leads and either securing a strategic partnership or acquiring a business altogether.
What Do Business Development Managers Do?
Over the course of a standard work week, business development managers produce effective business plans to drive increased revenue. Managers must come up with innovative business solutions to deal with problems and advance the business forward. Some daily tasks for development managers could include:
Developing potential business expansion and opportunities in new target markets
Generating leads through cold-calling prospective clients and businesses or through networking practices
Nurturing and developing relationships with potential clients, often through face-to-face meetings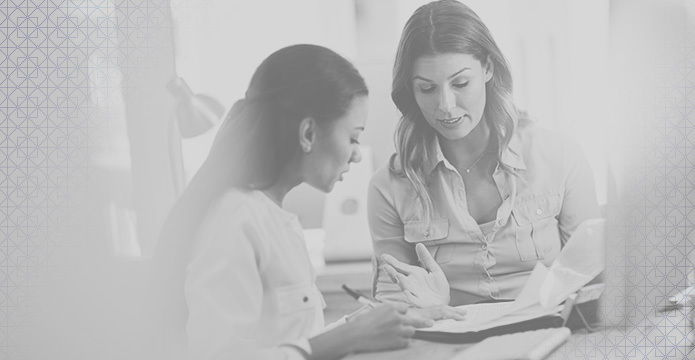 Once companies are successful in one area or market, they may decide to expand. They would have their business development manager conduct market research. Then, they may cultivate long-term partnerships to gain entry in the new market or more easily expand deeper into an existing one.
Skills a Business Development Manager Must Have
Business development is a catch-all position that requires skills from multiple departments, including sales, marketing and management. Here are some important skills that a business development manager should possess: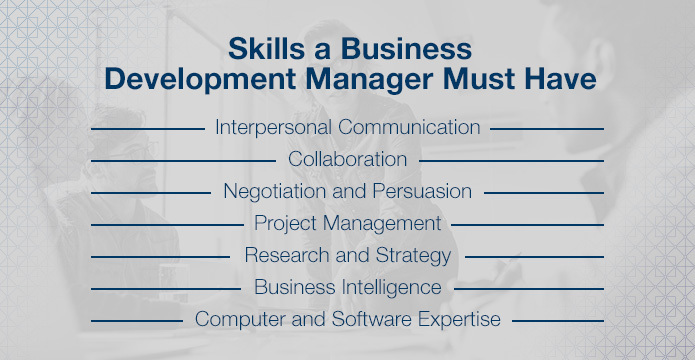 Interpersonal Communication: Business development managers work as a liaison for the company to develop strategic partnerships with potential clients.
Collaboration: These managers work with the marketing and sales departments to nurture and convert leads.
Negotiation and Persuasion: They will have to negotiate with businesses to help expand into other markets or to acquire or merge.
Project Management: Using this skill, business development managers keep track of all the leads they're cultivating and maintaining.
Research and Strategy: These managers must conduct strategic analysis of potential business opportunities that can lead to growth.
Business Intelligence: They must have an in-depth understanding of their business and their market to identify where to pursue product or service development opportunities.
Computer and Software Expertise: They should use standard computer software and some sort of customer relations management software, which can range from Google Docs to Salesforce.
Business Development on the Rise
Per Indeed, common requirements to become a business development manager include having a bachelor's degree in business or a related field and five or more years of experience with a proven track record in sales. In addition, having previous experience in a management role is beneficial.
Start Your Journey Today
With an online business degree from Notre Dame of Maryland University, you equip yourself with the credentials the top employers look for in a candidate.
View Degree Details
Working as a business development manager can be a highly lucrative career. Payscale reported that the median annual wage for someone in that role is 70,888. Compared to the 2018 median household income in the U.S., estimated at just shy of $60,000, it's no wonder why businesses place such a high price on an important position to the growth of any company.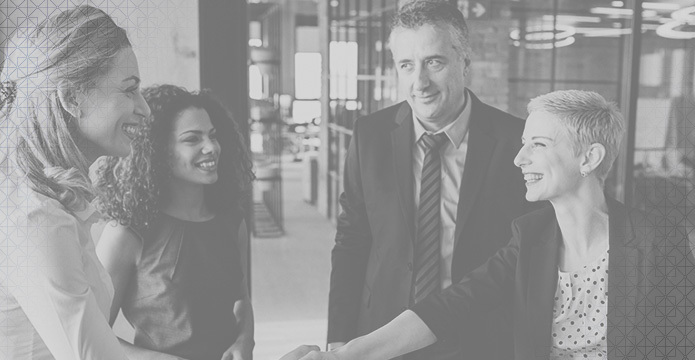 Get started on the path to becoming a business development manager with Notre Dame of Maryland University's online B.A. in Business. Our flexible online format allows you to complete your degree while balancing your busy life, and with the business bachelor's degree, you'll learn the key business skills necessary to succeed in growing your company bigger.