Social media managers and other marketing professionals need to have a solid grasp of the social media platforms that their audience uses. This inevitably means that you'll consider both Twitter and Facebook. Sprout Social suggests that comparing Twitter to Facebook is like looking at Coca-Cola and Pepsi or Android and iOS, as these companies represent the two largest sets of names in their respective industries.
You can become much more effective with your marketing efforts by analyzing Twitter vs Facebook, understanding how customers and clients use them and applying relevant data.
Twitter vs Facebook: An Overview
Twitter and Facebook now have ways for you to target and connect with your audience — organically or by using paid advertising methods. Looking at the purpose and audience of these two social media giants can help you determine how to spend company time and money.
Purpose
"Facebook and Twitter serve two different purposes," according to Sprout Social. "Most people go on Twitter to see what's currently going on, connect with new people and to discover new content. Facebook, on the other hand, is primarily used as a way to communicate with friends and family."
Facebook users generally want to see what's going on with their friends and family members. There are also community pages, apps and games that may interest Facebook users. This audience doesn't necessarily look for valuable content or company news on Facebook. That's where Twitter comes in.
Twitter is where people come for real-time content. Users can follow along with events taking place around the globe. They can discover content from people they don't know, making it easier to connect your brand with Twitter users. Of course, this can also work against you. The rapid pace of Twitter can make it difficult to engage with your audience. Within seconds, your audience's Twitter feed can become inundated with new tweets.
Learn more about a career in communications
Learn the skills needed to succeed in the communications world with the online M.A. in Contemporary Communication from Notre Dame of Maryland University.
Learn more
Audience
For years, the audience of Facebook has become older, moving from the millennial generation toward people who are 50 years old and up. There are still young users on Facebook, but there has been a shift as younger audiences move on to the next trend.
Most people on Twitter are under 40 years old. The fast-paced, real-time nature of Twitter appeals to this demographic. As a result, most businesses don't ignore this social media platform.
"Twitter's users skew younger and are more diverse than Facebook's; they're also wealthier, more educated and more likely to live in urban areas," according to Bloomberg. "From an advertising perspective, these are good people to know."
Twitter vs Facebook: The Numbers
Here are some figures that can help you understand the size, scope and nature of Twitter and Facebook.
Number of Active Users
As of June 2017, Facebook has more than six times the number of active users as Twitter.
•  Twitter: 328 million monthly active users (source)
•  Facebook: 2.01 billion monthly active users (source)


Rate of Growth
Twitter "appears to be in a prolonged rut," according to Business Insider. Twitter lags significantly behind Facebook and other social media platforms/apps for growth.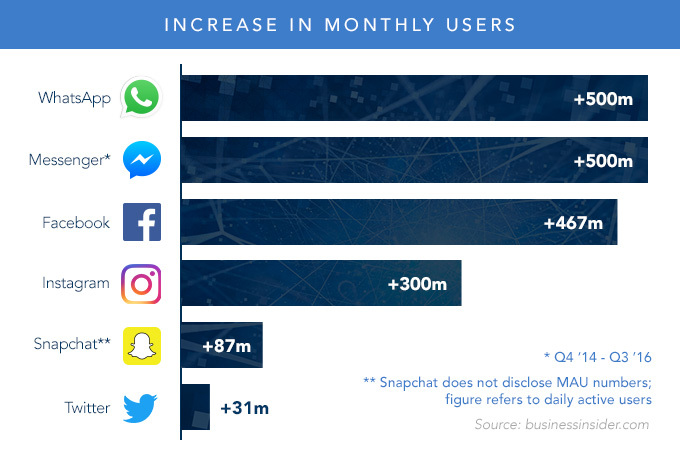 User Demographics
Twitter has distinct advantages over Facebook in a number of demographic areas.










Users Following Brands
Twitter users are three times more likely than Facebook and other social media users to follow brands or companies, consulting firm Convince & Convert reported. "Combined with their above average income and above average education, Twitter users' propensity to interact with brands make them a huge potential source for Mass Influencers."
Twitter vs Facebook: What's Best for Your Business?
Typically, most businesses find that it's not a question of which social media giant to use — it's a question of which platform to focus more time and money on.
"In the end, most brands end up using a combination of both Twitter and Facebook because they work very well together," according to Sprout Social. "Some companies get more engagement and a better ROI from Twitter, while others see better results with Facebook. Test out both, measure your results and find a healthy balance between the two."
---

Notre Dame of Maryland University's online master's in contemporary communication helps students develop their skills in emerging media forms like social media. Graduates learn how to apply critical analysis, creative insights and technological competence in their career, so they are prepared for positions in social media management, PR, organizational communication and more. The program takes place in a fully online learning environment.